Can you save SoundCloud songs to local space for unlimited offline playback?
Yes, you can! At least for most music or podcast tracks.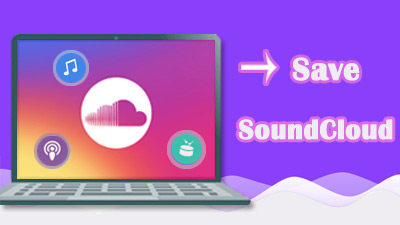 Being regarded as a YouTube-alike user-generated streaming site, SoundCloud is a unique place only hosting and focusing on music and podcast on the web. That makes it a perfect platform for new artists to promote their new DIY singles, albums and podcasts, as well as a paradise for musico- and podcast-philes to discover new world. Among diversified available music genres here, rap or say hip-hop music typically take over other ones in recent years, and many SoundCloud-originated singers even have successfully moved forward to mainstream and access to hot charts like Billboard Hot 100 or 200, Lil Pump with his "Gucci Gang", XXXTentacion with his "Middle Child", Lil Uzi Vert's "XO Tour Llif3", Ski Mask the Slump God's "Beware the Book of Eli" mixtape, just to name a few.
In all probability, you are a young teenager or an adult who seeks for ways to save SoundCloud's hot original pop/rap/relax music, remixed pieces, DJ sets and so on from web to local space. Then no matter what the target audio is, after finishing this article, you will obtain all possible ways to keep online SoundCloud media you like to PC's hard drive.
1. To Enjoy SoundCloud Streaming (Offline) Without Limit, Subscribe to Its Premium Service.
This online audio distribution site was originally created to help improve collaboration between musicians. But as the time goes on, it gradually grows to be a leading music & podcast discovery platform that even Twitter and Spotify intended to do acquisition, persuing by millions of listeners worldwide. Although you, when acting as a common audience, have varying permission to access to the online media library, there's always no download option provided. Some facts for file playback first:
– All registered users can access to unlimited audio tracks online for free while some are only available in 30s preview.
– SoundCloud Go (monthly $4.99) subscription allows people to access and save unlimited tracks for offline enjoying in standard quality.
– SoundCloud Go+ (monthly $9.99) enables its subscriber to listen to up to 135+ million tracks in ad-free full and upgraded high-quality form in 256kpbs, and save them for offline playback.

Absolutely, since SoundCloud are available for both desktop and mobile devices, you can pay for Go or Go+ according to your need to pick audio files for offline playback. The main differences between them are whether you have right to access full catalog, to preview and to get streaming at higher quality. Unfortunately, SoundCloud Go is still not launched in some countries currently.
2. Try SoundCloud Downloader or Converter to Save SoundCloud.
To hep people move online streaming video or audio to local storage of computer, many web-based, browser extension and standalone online video downloader or converter programs are developed to meet this streaming ripping needs perfectly, SoundCloud ripping included. To save you time on utility selection, here several popular names are shared:
– sclouddownloader.net: A top-ranked SoundCloud-focused downloader that's totally free to abstract MP3 tracks, songs, and music online in 128kbps & 320kbps (depends on the source) speed without software/plugin download or install. It's officially claimed to support up to 95% SoundCloud tracks. Alongside the single music piece downloader, another Playlist Downloader is still offered, which seems unable to parse and download many playlist sets.

Note: Generally, this kind of online services are unstable on file support, which requires a continuous maintenance and update. Some may even be forced to shut down under the strenuous attacks by some copyright holders or due to legal disputes with them, savefrom.net (terminated US service in 2020) and YouTube-mp3.org (closed in 2017) are two examples. Also, you are informed that there's no SoundCloud downloader or converter app on Google Play at all since it's been banned on this big store.
– WinX YouTube Downloader: An all-around online media downloader that works with over 300 online streaming sites like YouTube, Vevo, SoundCloud, Instagram and so forth. As to downloading SoundCloud, you can initiate batch download and save analysable SoundCloud tracks/playlist into MP3, Opus at any available quality level, e.g. 128/64 kbps.
3. When Unable to Download/Convert, Record from SoundCloud
As a rule, no one downloader or converter embraces all audios from SoundCloud, therefore many users come across and complain about: xxx can't parse SoundCloud music url, SoundCloud song address analysis failed, xx gives an "unable to download" error whenever clicking on download button… At this time, the only feasible workaround is to make a screen capture of it with a SoundCloud music recorder.
RecMaster is an all-around screen recorder that's able record SoundCloud of any kinds into MP3, WAV, W4A, MP4 or some other mainstream media formats. With it, you can play and real-time grab the any standalone streaming song/podcast, or the whole album/playlist at your disposal. Now you can free download it and set it up on your Windows or Mac computer to save SoundCloud file in your own way.
Multiple Recording Modes: Full Screen, Custom Area, Audio Only, Webcam, Game Mode (for Windows only)
Supported Video Formats: MP4/AVI/FLV for Windows, MP4/MOV/M4V for Mac
Supported Audio Formats: WP3/WAV for Windows, M4A/CAF for Mac
When you encounter certain new hot, rare, unique music on this amazing open audio platform, launch RecMaster and choose a recording mode with customized video/audio format, quality, and sound volume to proceed. Kindly to note that any online streaming sound belongs to internal "System sound", so to have a successful and high-quality SoundCloud capture, you should turn on System sound option, adjust its volume to a proper level, and are suggested to turn Microphone off to avoid external noise or echo involved in the final recording.

"
Although most listeners are likely to keep SoundCloud audio as audio still, a small portion of people still want to preserve it as video file like an MP4-formated one. RecMaster can accomplish as long as you pick Full Screen or Custom Area to have a screen area to record at the same time, be it the whole desktop activity, a still image, a photo slideshow, a cool muted animation, the SoundCloud web page or your self-drawing action (with RecMaster's drawing pen).
Once you begin the recording, you are free to pause and resume at any time. That makes it easy to save partial of any target song and combine multiple songs into a single clip. When the song list is too long for you to sit in front of the monitor to wait for an end, you can conduct an auto-stop with Task Scheduler on Windows and Duration on Mac.
Ending Marks
According to SoundCloud's term of use, you must not or attempt to copy, rip or capture any audio content from it without the permission from relevant uploader. So gain the permit from uploader before any of your such behavior and then save SoundCloud for offline listening legally.