Many newbies have no idea on how to make picture in picture video recording, actually it's simple once you've picked a handy video creation program.
Showcasing a webcam inset onto video to realize a picture-in-picture effect is widely used by video authors for how-to instruction, online/remote course, PIP training material, narrated gameplay walk-through with real face, and so forth. Then how to make such video with facecam overlay added onto a corner of video? Well, since there is more than one way to achieve this goal, let's have a look at these methods one by one.
1. You can directly make picture-in-picture video with quality screen recorder
For those screencast creators who are willing to work out desktop action video while showing the person (usually the facecam frame) simultaneously, owing a handy screen recorder with such functionality is just enough.
RecMaster is such a flexible and easy-peasy desktop screencaskting program that's able to produce picture-in-picture screen video with ease. By supporting adding webcam overlay into screen at any position and size, plus the preloaded file settings and tools for annotation, editing & time scheduling, it gives you a totally control on what the final video looks like. Now you are suggested to free download RecMaster and follow the steps below to make PIP screen capture video effortlessly.
After placing RecMaster on your Windows or macOS based machine, you can start the PIP video production like this. Please make sure there's an available integrated or external webcam equipped on your PC.
Step 1. Choose A Mode
Launch RecMaster and choose either video recording mode from Game Mode (for Window only), Full Screen, Custom Area. If you pick Custom Are, you will firstly be lead to manually select the target recording area with your mouse. Note that besides the three options, two other – Webcam and Audio Only are given for pure webcam video capture and audio recording.

Step 2. Do Settings
When you enter into the secondary main UI, turn on webcam video overlay to have it appear on the right corner of desktop and then you are free to move it at any position you like, rotate it (optional) and tweak the size. If there are multiple webcam devices, you can click the down arrow icon near Webcam option to expand the list and make another selection.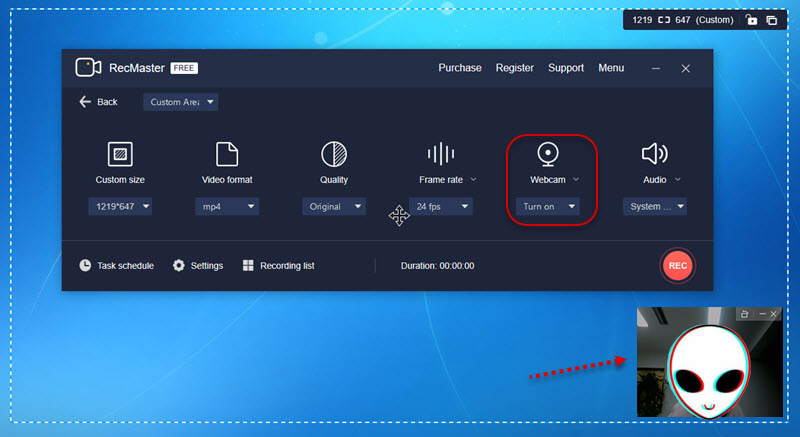 Front camera settings done, you should confirm other things regarding video format, quality standard, frame rate type and value, system sound, microphone etc. If there are two or more monitors here, Full Screen automatically grabs the main or say first monitor, and you need to switch it to another one if you really want to. What's more, you can record multiple monitors at the same time on Windows once you utilize Custom Are to frame them into a single recording area.
Left below the interface, more options stand by for more customized capture, say Task schedule, Settings (on watermark, mouse cursor, shortcuts etc.) and Recording list.
Step 3. Start Recording
When everything is prepared well, click the big red REC button on software or press related shortcuts on keyboard to make the PIP video recording happen. By default, there's a three-second countdown before the real capture and you are free to make annotations with the internal drawing pen at any time during the recording process. Still, you can pause and resume anytime you have made an operation mistake or so.
Step 4. Stop Recording
When the activity is over, give the recording to an end. After that, the PIP video will be loaded into a recording list where you are allowed to preview, rename, edit, and one-click share it to YouTube or Vimeo. If online platform is not your destination, send it to its audiences via email, chatting app, Google Drive link and so on as you wish.
2. Post-production is another approach to add video overlay to another
The method mentioned above is to make picture-in-picture video from the very start, which is adopted by many gamers, YouTubers, online educators and so forth to present what's going on here with the real face and status at one go. While for those who only have video materials separately and want to stick one to another to be a PIP-looking movie, obtaining an easy yet pro-level video editing application is a must-do.
Here a solid screen recorder and editor called Camtasia is taken as an example on how this kind of programs works. To achieve the desired Picture in Picture effect with its editor, you should locate two pieces of ready-made videos on your computer beforehand.
Step 1. Download and install video editor
Get this all-in-one video editor from TechSmith website and finish the wizard to set it up on your PC.
Step 2. Import two video sources into editor and resize them
Once you open Camtasia, do click Import Media to input the footage into the app's Media Bin section. Then, drag and place the two video clips to the timeline as two tracks alone. At this time, the video files will appear in preview window where you need to manually resize the videos and change their locations for an expected picture in picture looking.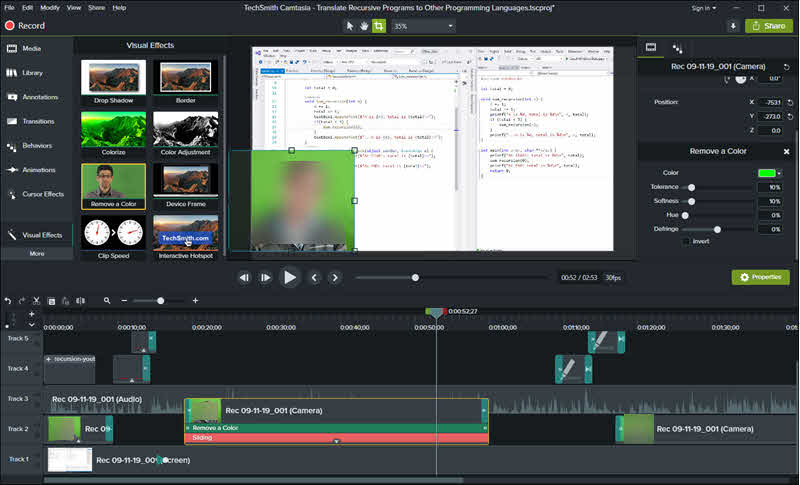 Step 3. Apply other effects and edits (optional)
Camtasia is designed to help both newbies and advanced users to quickly produce video tutorials, demonstrations, and similar without fancy editing skills. Here you can simply export them with PIP effect straightforwardly or add some color effects/annotations/transitions, reduce background noise (if there's), trim unwanted parts off, and so on.
Step 4. Export picture in picture video
Camtasia delivers many file exporting & sharing options such as MP4, MOV, YouTube, Vimeo, Google Drive and its own Screencast.com cloud storage.
Final Words
It's simple to make picture-in-picture screen recording as long as you employs a handy screen recording program. So does inserting a facecam or other video overlay box onto another video frame once there's a non-linear video editor. If you still have any problem on this topic, please feel free to email us.