With the hardware upgrade in recent years, more and more software programs tend to take power advantage of on-board segment GPU to boost the working efficiency. Hardware acceleration is just a typical example that's widely used in various video processing cases including video recording, video editing, video conversion, video playback and so forth. Therefore, that's it, it's possible to screen record with hardware acceleration.
General-purpose CPU is not as powerful as decent GPU, so some screencasting software developers leverage (GPU) hardware acceleration to improve their programs' performance of in-app video processing like encoding and editing (if there's an internal editor) by delivering the source-intensive task to graphics processor and its cores to finish.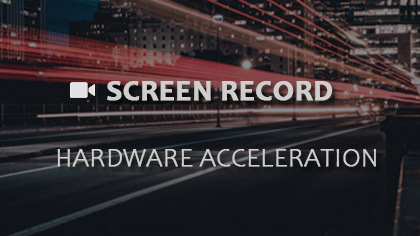 Do All Screen Recorders Have Support of Hardware Acceleration?
Not really, but many screen recorders are compatible with hardware accelerated video encoding or say processing, especially the top-ranked desktop screen recorder applications or best game recording software, like OBS Studio, Bandicam, and Action!. Those advanced screen recorder and editor tools like Camtasia and Adobe Captivate, in order to offer faster and more vivid video captue, rendering and encoding, take GPU acceleration a must-have feature.
How to screen record fast and smoothly on Windows or macOS machine?
Picking a proper screen recorder is crucial, especially if you are a screencasting beginner. RecMaster is so simple and feature-rich that even a super newbie can work out pro-looking screen video as easy as a-b-c. Now you can free download its Windows or Mac installer and set it up on your computer.
Step 1. Select a recording mode
RecMaster has multiple ready-made modes to satisfy any possible recording demand on video and audio. You can choose Full Screen to document the whole desktop movements (with webcam and narration), Game Mode to record gameplay footage (with face overlay and voiceover), Custom Area to any manually selected section fixedly, Webcam to shoot the front camera presentation at any suitable resolution, and Audio Only to produce pure sound file from sound card or/and microphone.

Step 2. Fine tune the settings
For screen video capture, webcam capture excluded, you are free to decide the video format & quality, frame rate, webcam overlay, sound source and volume. If there are two or more monitors, either can be defined as the target one. To record multiple screens at the same time, you should line them properly and rely on Custom Area.

For video tutorial or online course creation, you're suggested to enable the mouse cursor effect under Settings panel. If you will take annotation amid the capture, do make sure the "floating toolbar" option is not ticked for hiding. If you are bound to share the recorded clip with your students, trainees, online followers or so, you can add personal watermark under Settings tool to brand the video.
GPU Hardware Acceleration Option
Currently, RecMaster embeds a "GPU Acceleration" option in its Mac Settings to screen record H.264 video without lag. And it will soon be available on Windows version.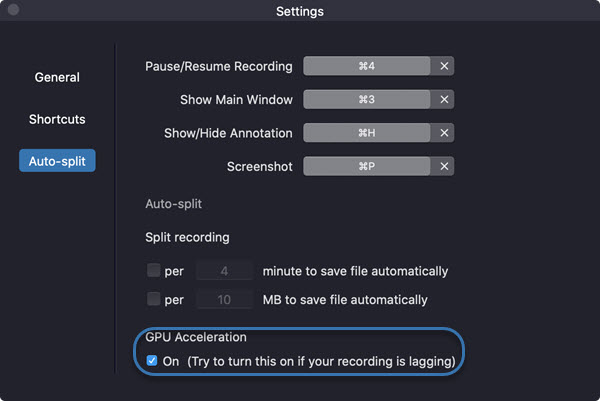 Step 3. Record, annotate, edit and share (optional)
When preparation work is done, you can start and end the recording immediately by pressing the software button or shortcuts. After that, the homemade movie will be loaded and showed in Recording list, from which you are empowered to preview, rename, edit and share material to YouTube or Google Drive in clicks.
Note: For timed (live) streaming content recording on Windows PC, you don't have to sit before the computer and make it happen manually because RecMaster's Task schedule is designed to do such recording automatically at your disposal.
How to Judge Whether A Screen Recorder Supports Hardware Acceleration or Not?
Since hardware acceleration tech is mainly used to encode video in a faster way, if a screen recorder embraces this tech, you are likely to find related available encoder under software's settings. Surely the setting option and location must vary from apps. For instance:
– OBS adds available hardware accelerated codec into its Settings -> Output -> Recording -> Encoder
– Bandicam inputs workable hardware acceleration codec at Format Settings -> Video -> Codec
– Wondershare Filmora scrn (now upgraded into DemoCreator) only gives a "GPU Acceleration" option under Settings -> Advanced -> General
…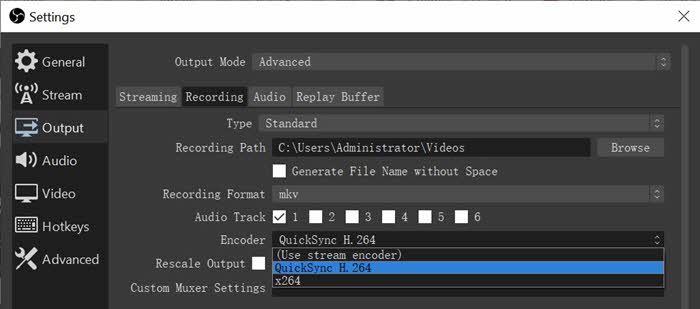 Drawn from the examples above and it's also true that a hardware-acceleration-featured screen recorder usually has two ways to show this talent of it – giving the specific video encoder e.g H264 Intel QSV/Nvidia NVENC or simply a "GPU Acceleration" option with fixed and un-adjustable codec. That's to say, if you don't find neither of the two settings from a screen recorder, then it doesn't support hardware acceleration in all probability.
Why did You Fail to Enable GPU Acceleration in A Hardware-Acceleration-Friendly Recorder?
To begin with, you should know that only when your graphics card hardware and system version are both qualified can you enjoy the hardware acceleration from the very beginning. Any outdated or unqualified CPU or GPU model doesn't offer this functionality since its birth. Now please check out the brief requirements of three main hardware acceleration service providers – Intel, Nvidia and AMD.
You can see your processor model and confirm its support for hardware acceleration from the official page of hardware developer. And still since H.264 and H.264 are two most widely used codecs, I only list they two in the table and dismiss the other less mainstream ones like VP8, VP9, MPEG-2, and VC-1.
Then, it comes to the real application of such hardware acceleration in software developing. Due to the varying product start-time and management, different video apps of course won't obtain the same hardware acceleration support. As a rule, general screen recorders tend to firstly work with H.264 Intel QSV and then move up to H.264 or other accelerated codecs from NVIDIA and AMD, e.g. OBS added Intel QuickSycn encoding support in 2013 and support for NVEnc encoder in 2014. But there are also some exceptions, for example Bandicam just fully supported the hardware accelerated H.264 encoders of Intel, NVIDIA and AMD at the same time in late 2014.
When to Screen Record with Hardware Acceleration?
If your computer and software encoder are able to handle common screencasting mission smoothly without fps drop and lag, you can keep it by default and don't need to switch to a hardware accelerated one. Accordingly, if you find the screen recording has frame drops or is laggy, if you are conducting complicated or source-intensive video recording on Windows/Mac like large-scale gameplay, if you only record a partial of the screen and want to do things in the non-recorded section, if you plan to record a long meeting or live stream and are worried about the captured file is too large to store… you are suggested to gain benefit from hardware acceleration tech to enhance the recording ability and maybe output a smaller-sized recording (file size is also determined by many other factors).
We have to admit screen recording with hardware accelerated encoder is praised for its speed, taking low CPU usage and creating high-quality yet smaller video footage, but under certain circumstances, it still causes problems, for instance the recording is black screen, the video capture app is distorted and the recording freezes and stops all of a sudden.